£40 MOTs available with the new OTRA flyer!
We've had a busy start to our life on Walton Summit, working hard to ensure we can still offer the same high standard of service to our contract clients whilst taking on more and more private customers.
We are fully confident we can now always meet the high expectations of all our valued customers, having enjoyed some great feedback from our neighbours across Walton Summit!  MOT bookings are filling up nicely; new faces are arriving all the time due to recommendations; we've even had people travelling well out of their way for specialist work thanks to friends and colleagues' positive experiences!
We wanted to build this reputation locally before sending promotional materials out; we believe word of mouth is crucial to building the trust of our customers.  However, the time has come to let the OTRA name out; there's even the added bonus of discounted MOTs for Walton Summit residents with our new leaflet!
On return of the leaflet, customers receive a £40 MOT – something that's been well-received so far!  The option of free vehicle collection and delivery to local businesses is also proving popular, providing a convenient service to local workers.
Much more than just MOTs!
Producing this leaflet  has allowed us to display some of the services on offer as an introduction.  Whilst we can't quite fit everything on an A5 leaflet, we believe it acts as a good way to display our versatility and varied expertise.
We provide everything from vehicle servicing to specialist auto electrical work, and our technicians have shown themselves to be more than happy to take on a challenge!
Our feedback so far been very positive, and we're very much looking forward to the feedback from all on Walton Summit and beyond.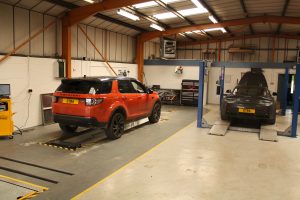 ···
Behind the scenes
We realise that customers want a personal service, and that's what we like to provide across all aspects – including the leaflets!  We've seen too many stock pictures and designs that make garages all look the same.  That's why we wanted to create our own from scratch.  Using our own design and workshop picture (on the back of the flyer), this is just another step in creating a unique identity for OTRA.  It might not have some of the hallmarks of expert designers would offer, but it's ours!